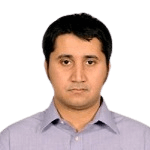 K.B.M. Fazley Rabbi
Managing Director
K.B.M. Fazley Rabbi has more than 15 years of software development experience. During his professional life he developed software application for very big big companies of USA and Canada like Highmark, Johns Hopkins, Kaiser Permanente, Webbmason, CBRE Group, Manulife Financial etc. He developed many complex systems which can handle millions of data very efficiently. He has an excellent ability to understand the clients need and turning these in a requirement document and technical document.
From the year 2012 he started business, by using his excellent communication and technical skill he able to manage very good number of clients from different parts of the world. All of his clients are very satisfied with his service and turning into his fixed clients.
He loves to work and he can work like a machine. His working style is very detailed and very organized. He always try to improve his team member's skills and that's why he has got a team which is full of talents and skills.
He completed B.Sc in Computer Science in the year 2005 with CGPA 3.84 out of scale 4.0 from American International University - Bangladesh (AIUB). During his free time he loves to read book, watching movies, playing with his kid.